It is that time of week to enjoy some cute critter photos. Enjoy!
This was taken shortly after we moved in to the new house. Inky had wedged himself in between the stacks of my jeans and Halloween costumes on my dresser. It doesn't look very comfortable to me but then I am not flexible like he is.
Our house mates have a kitty named
Winky
. Here he is all curled up with my sleepy bear, Dave. I love my hubby :D
Now for some exciting news! Since we moved I have had no wildlife. I have been sorely missing my little critter friends. This morning I looked out the window and had a full feeder. There was a Red-bellied Woodpecker, a Downy Woodpecker, 4-6 Slate-colored Juncos and a few Sparrows (which I didn't get the chance to identify in depth but appear to be House Sparrows).
Also last night we had a Opossum on the deck. He took off fairly quick and I didn't have time to take a photo, but here are his/her footprints.
For more Saturday Critters go to Camera Critters: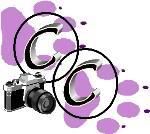 http://camera-critters.blogspot.com/
~Jessica~